SPRING/SUMMER LAUNCH 2018
We would love to invite you to the Spring/Summmer launch of the new collection in May 2018. Held in one of London's prime location, just behind the Ritz London in Mayfair, the presentation will showcase the latest collection over drinks and light canapes. We hope to see you there! To register your interest, click here. 
MORGANITE STYLE SHOOT
We were featured in 5Star Wedding Directory! We partnered with our friends at Tee's Bakery on a beautiful precious pink Morganite inspired style shoot at the breathtaking Warren House in Surrey and previewed a piece from the forthcoming Spring/ Summer collection.
Head over to the 5Star blog for some wedding inspiration!
GENEVIEVE MAGAZINE DECEMBER 2017
The Cinderella mermaid gown from the forthcoming 2018 collection was featured in the December Bridal issue of Genevieve Magazine 2017.
SHADE OKOYA AT 40
Mrs Shade Okoya wore a bespoke beaded ball gown, the heavy cluster shoulder dress from the SS17 collection and a bespoke red jumpsuit in celebration of her 40th birthday. Her daughters also wore the heavy cluster shoulder mini dresses to match. To see more from her birthday celebration, click here.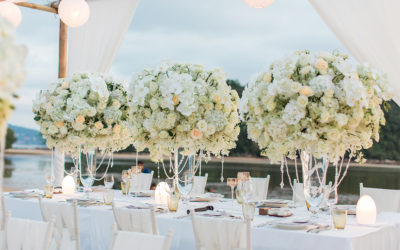 The Magical World of Weddings So as far as tenure goes, I am pretty new to the bridal scene. I have been making bespoke dresses for clients for over 7 years now but in the last year I have ventured into the wonderful world of weddings and I...